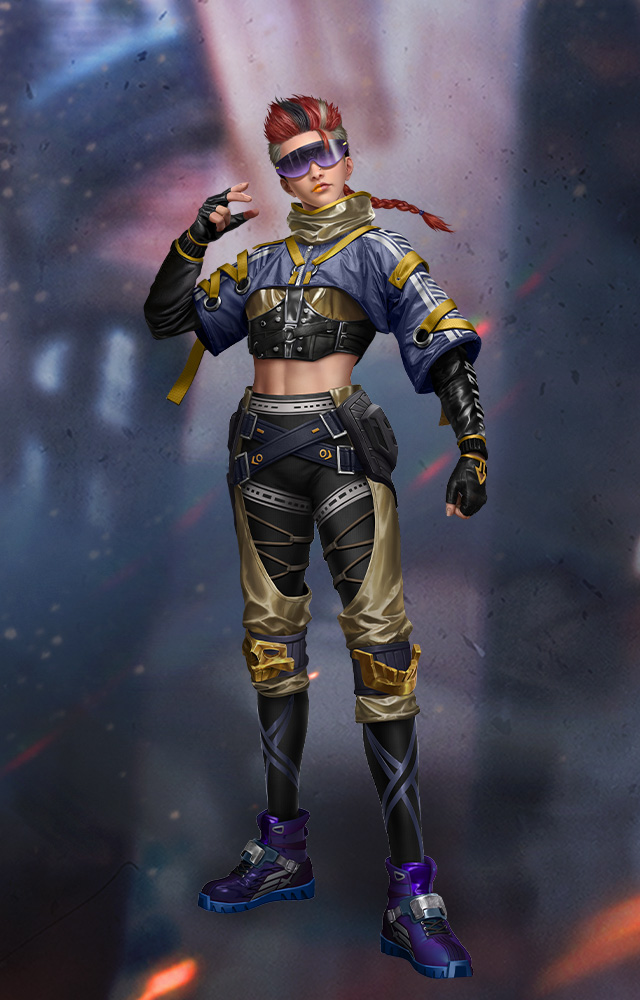 Xayne
Sex: female
Age: 23
Birthday: Apr 21st
Xayne was always interested in more extreme activities even when she was a kid.
She prefers the adrenaline rush of xtreme sports instead of human interaction. Free-spirit, she wants to explore life and find its limits. If someone says "you can't do something", she will definitely find a way to do it.
SPECIAL SURVIVAL ABILITY

Xtreme Encounter
Gets 80 HP temporarily, increased damage to Gloo Walls and shields. Lasts for 10s.
COLLECT XAYNE'S MEMORY FRAGMENT TO UNLOCK
UNLOCK AT LEVEL 1

Gets 80 HP temporarily, 40% increased damage to Gloo Walls and shields. Lasts for 10s. Cooldown: 150s.

UNLOCK AT LEVEL 2

Gets 80 HP temporarily, 50% increased damage to Gloo Walls and shields. Lasts for 10s. Cooldown: 140s.

UNLOCK AT LEVEL 3

Gets 80 HP temporarily, 61% increased damage to Gloo Walls and shields. Lasts for 10s. Cooldown: 130s. Summon airdrop playcard

UNLOCK AT LEVEL 4

Gets 80 HP temporarily, 73% increased damage to Gloo Walls and shields. Lasts for 10s. Cooldown: 120s.

UNLOCK AT LEVEL 5

Gets 80 HP temporarily, 86% increased damage to Gloo Walls and shields. Lasts for 10s. Cooldown: 110s.

UNLOCK AT LEVEL 6

Gets 80 HP temporarily, 100% increased damage to Gloo Walls and shields. Lasts for 10s. Cooldown: 100s. Xayne's Banner