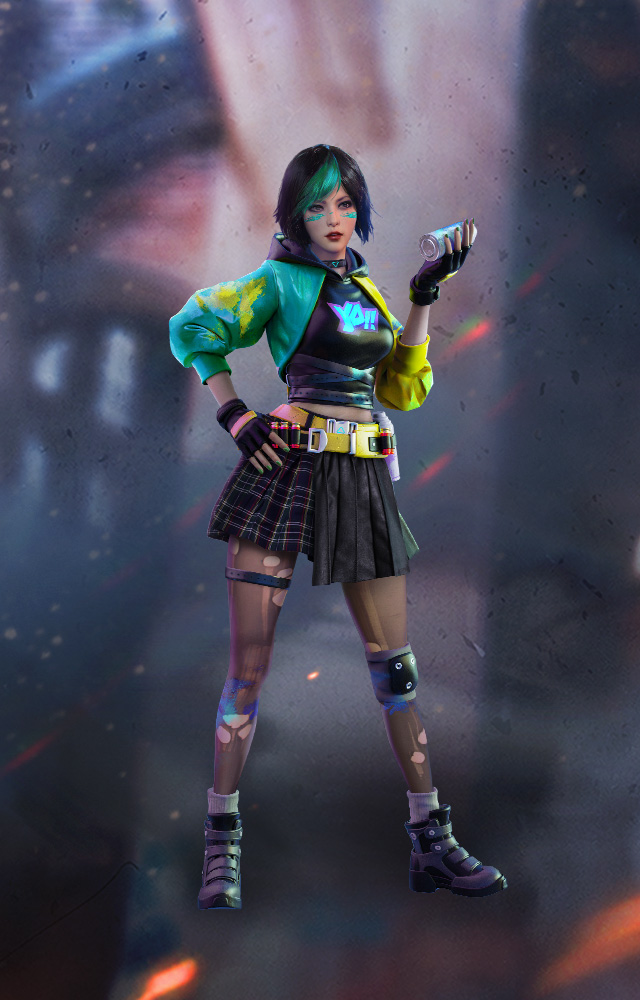 Steffie
Sex: female
Age: 23
Birthday: Mar 22nd
Steffie is a liberalist. Since childhood, she has already shown the surprising gift for art.
After the war, Steffie saw the rise of Future Horizons in her country and how they huntered down artists in the name of a better future. She became a famous rebel, leaving amazing graffiti in the city to laugh at their cowardice.
To bring back freedom to this world, she joined Cibernetica as their first non-hacker member.
SPECIAL SURVIVAL ABILITY

Graffiti's Blessing
Create a graffiti that reduces explosive damage and bullet damage by 5% for some seconds. CD 45s. Effects do not stack.
COLLECT STEFFIE'S MEMORY FRAGMENT TO UNLOCK
UNLOCK AT LEVEL 1

Create a graffiti that reduces explosive damage by 15% and bullet damage by 5% for 5 seconds. CD 45s. Effects do not stack.

UNLOCK AT LEVEL 2

Create a graffiti that reduces explosive damage by 17% and bullet damage by 5% for 6 seconds. CD 45s. Effects do not stack.

UNLOCK AT LEVEL 3

Create a graffiti that reduces explosive damage by 19% and bullet damage by 5% for 7 seconds. CD 45s. Effects do not stack. Summon airdrop playcard

UNLOCK AT LEVEL 4

Create a graffiti that reduces explosive damage by 21% and bullet damage by 5% for 8 seconds. CD 45s. Effects do not stack.

UNLOCK AT LEVEL 5

Create a graffiti that reduces explosive damage by 23% and bullet damage by 5% for 9 seconds. CD 45s. Effects do not stack.

UNLOCK AT LEVEL 6

Create a graffiti that reduces explosive damage by 25% and bullet damage by 5% for 10 seconds. CD 45s. Effects do not stack. Steffie's Banner