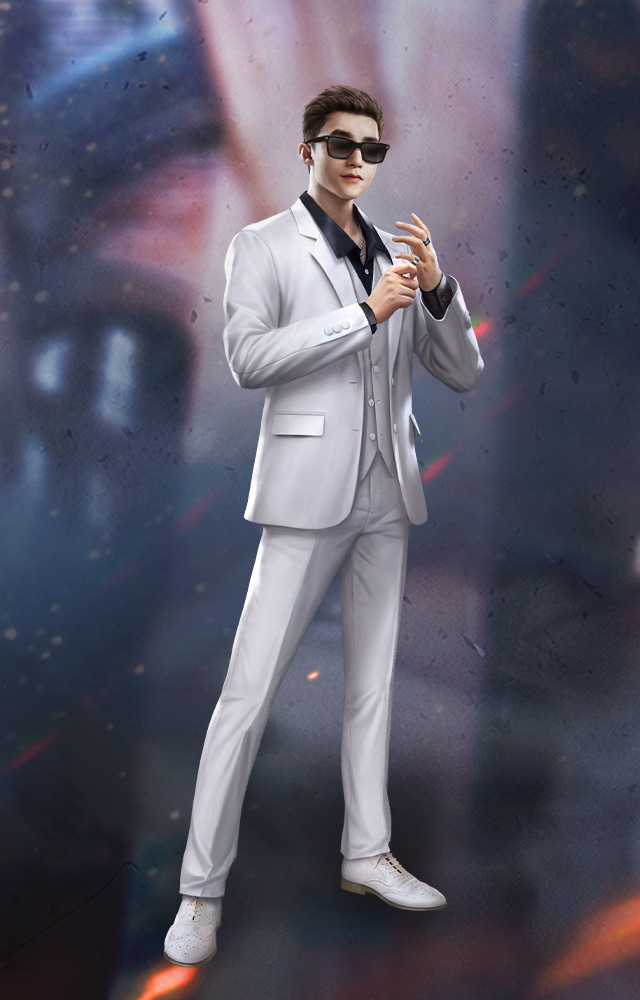 Skyler
Sex: male
Age: 26
Birthday: Jul 05th
Skyler got his rise to fame as the hottest pop singer-dancer in the country, and he is now the CEO of the largest entertainment company in Vietnam.
Driven to be the best musical talent in the business and to also find the best talent. He doesn't like to lose and believes that creativity allows people to see the good in the world instead of the bad.
SPECIAL SURVIVAL ABILITY

Riptide Rhythm
Unleash a sonic wave forward that damages Gloo Walls. Also, each Gloo Wall deployed will result in HP recovery. Recovery effects do not stack.
COLLECT SKYLER'S MEMORY FRAGMENT TO UNLOCK
UNLOCK AT LEVEL 1

Unleash a sonic wave forward that damages 5 Gloo Walls within 50m. CD 60s. Also, each Gloo Wall deployed will result in 4 HP recovery. Recovery effects do not stack.

UNLOCK AT LEVEL 2

Unleash a sonic wave forward that damages 5 Gloo Walls within 58m. CD 58s. Also, each Gloo Wall deployed will result in 5 HP recovery. Recovery effects do not stack.

UNLOCK AT LEVEL 3

Unleash a sonic wave forward that damages 5 Gloo Walls within 67m. CD 55s. Also, each Gloo Wall deployed will result in 6 HP recovery. Recovery effects do not stack. Summon airdrop playcard

UNLOCK AT LEVEL 4

Unleash a sonic wave forward that damages 5 Gloo Walls within 77m. CD 51s. Also, each Gloo Wall deployed will result in 7 HP recovery. Recovery effects do not stack.

UNLOCK AT LEVEL 5

Unleash a sonic wave forward that damages 5 Gloo Walls within 88m. CD 46s. Also, each Gloo Wall deployed will result in 8 HP recovery. Recovery effects do not stack.

UNLOCK AT LEVEL 6

Unleash a sonic wave forward that damages 5 Gloo Walls within 100m. CD 40s. Also, each Gloo Wall deployed will result in 9 HP recovery. Recovery effects do not stack. Skyler's Banner