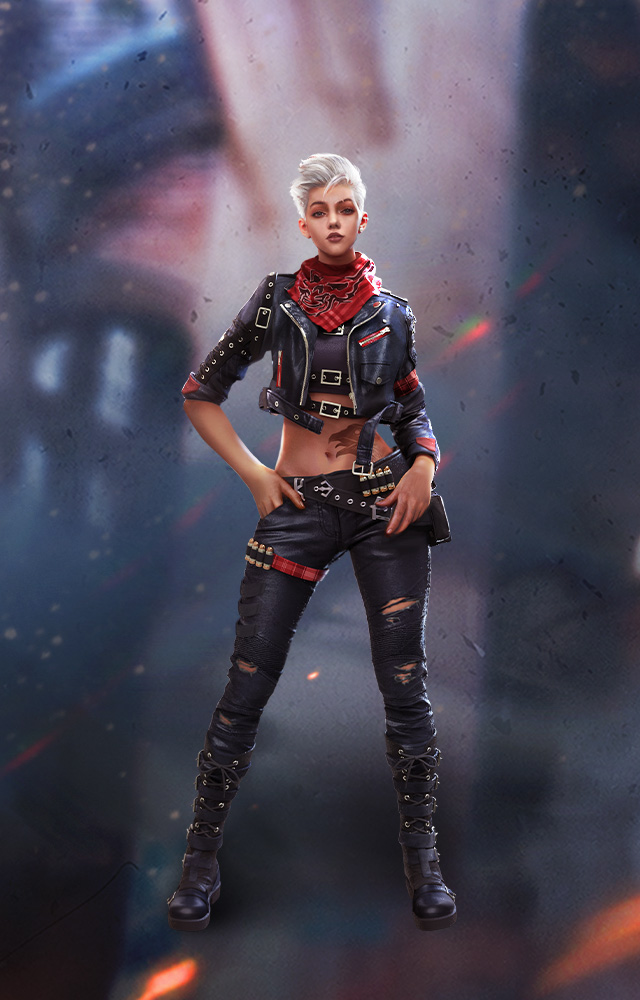 Notora
Sex: female
Age: 27
Birthday: Mar 22nd
Notora is a motorcycle racer.
She was born into a family that was part of a biker gang, but she hates a life full of killings.
A gun fight occured between her gang and another rival, her entire team was wiped out and she got captured. Due to her performance in the battle, she avoided death and was sent to Free Fire island.
SPECIAL SURVIVAL ABILITY

Racer's Blessing
When driving a vehicle, restore HP of all members on the vehicle. Effects do not stack.
COLLECT NOTORA'S MEMORY FRAGMENT TO UNLOCK
UNLOCK AT LEVEL 1

When driving a vehicle, restore HP of all members on the vehicle by 5 HP every 4.5s. Effects do not stack.

UNLOCK AT LEVEL 2

When driving a vehicle, restore HP of all members on the vehicle by 5 HP every 4s. Effects do not stack.

UNLOCK AT LEVEL 3

When driving a vehicle, restore HP of all members on the vehicle by 5 HP every 3.5 s. Effects do not stack. Summon airdrop playcard

UNLOCK AT LEVEL 4

When driving a vehicle, restore HP of all members on the vehicle by 5 HP every 3s. Effects do not stack.

UNLOCK AT LEVEL 5

When driving a vehicle, restore HP of all members on the vehicle by 5 HP every 2.5 s. Effects do not stack.

UNLOCK AT LEVEL 6

When driving a vehicle, restore HP of all members on the vehicle by 5 HP every 2 s. Effects do not stack. Notora's Banner