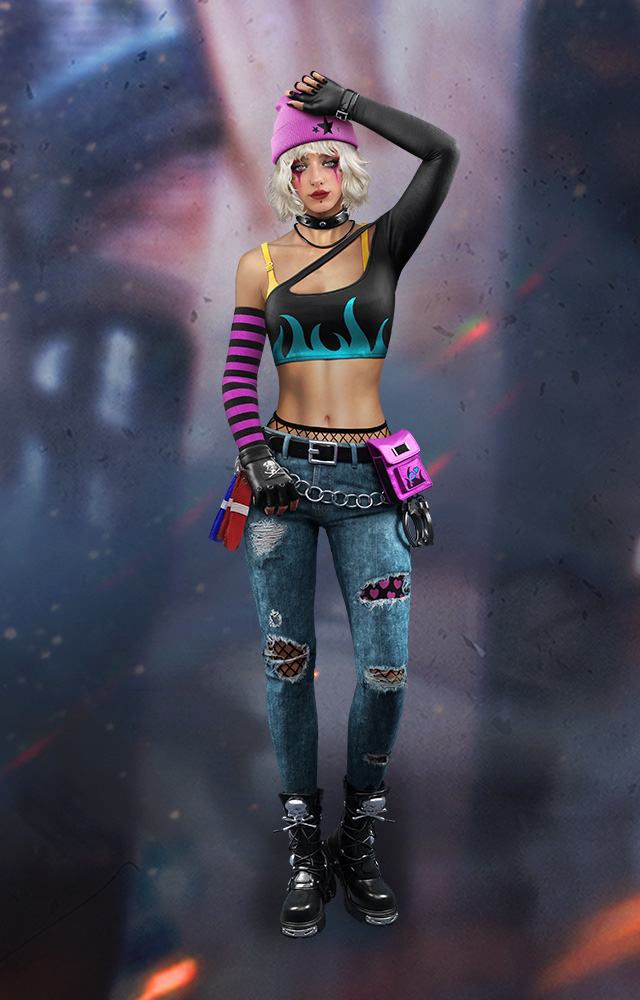 Dasha
Sex: female
Age: 25
Birthday: Dec 08th
Dasha was a very happy and productive child but then a series of unfortunate events came into her life. Her parents died, her best friend moved away, her foster family was terrible to her and her country was on the brink of war. She felt betrayed, mistreated and abused by people and the system. When she was 18 she had to make a choice: fight for survival, let her past destroy her or to let it all go and have fun. She chose the third option, using fun as a weapon to take back her life.
SPECIAL SURVIVAL ABILITY

Partying On
Reduce damage taken and recovery time from falls. Reduce rate of recoil buildup and maximum recoil.
COLLECT DASHA'S MEMORY FRAGMENT TO UNLOCK
UNLOCK AT LEVEL 1

Reduce damage taken from falls by 30%. Reduce recover time from falls by 60%. Reduce rate of recoil buildup by 6%. Reduce maximum recoil by 6%.

UNLOCK AT LEVEL 2

Reduce damage taken from falls by 32%. Reduce recover time from falls by 62%. Reduce rate of recoil buildup by 6.4%. Reduce maximum recoil by 6.4%.

UNLOCK AT LEVEL 3

Reduce damage taken from falls by 35%. Reduce recover time from falls by 65%. Reduce rate of recoil buildup by 7%. Reduce maximum recoil by 7%. Summon airdrop playcard

UNLOCK AT LEVEL 4

Reduce damage taken from falls by 39%. Reduce recover time from falls by 69%. Reduce rate of recoil buildup by 7.8%. Reduce maximum recoil by 7.8%.

UNLOCK AT LEVEL 5

Reduce damage taken from falls by 44%. Reduce recover time from falls by 74%. Reduce rate of recoil buildup by 8.8%. Reduce maximum recoil by 8.8%.

UNLOCK AT LEVEL 6

Reduce damage taken from falls by 50%. Reduce recover time from falls by 80%. Reduce rate of recoil buildup by 10%. Reduce maximum recoil by 10%. Dasha's Banner